INMODE MORPHEUS 8 TREATMENTS
INMODE MORPHEUS 8 IN WESTLAKE VILLAGE, CA
Setiba Medical Spa offers Inmode Morpheus 8 Microneedling RF treatment in Westlake Village, CA great for both men and women.
The radiofrequency component creates a thermal layer, Resulting in more collagen production . Many refer to this treatment as, "The Instant Facelift." In addition to tightening of the face, neck, and chest, this treatment also improves skin texture, minimizes pore size, reduces the appearance of wrinkles and scars, and improves skin tone and skin brightness. The Morpheus8 cost depends on the skin tightening process that you undergo. Micro-needling Rf treatment is an in-office treatment combining micro-needling with radiofrequency (RF) energy. The Morpheus8 reviews speak for themselves as all our customers are happy with the Results. Inmode Morpheus 8 is three times more powerful and faster, and therefore more effective than other RF technologies. Similar effective treatments you can find are 
plasma pen in westlake village.
FREQUENTLY ASKED QUESTIONS
Morpheus8 is a safe and effective minimally invasive modular RF fractional solution for full body subdermal adipose remodeling.
What Is Inmode Morpheus8?
Morpheus8 is microneedling with radio frequency with adjustable depth (up to 4 mm) fine surgical pins. At the end of these fine pins, radio frequency waves are emitted. What this means is that you get a double whammy when it comes to skin rejuvenation and tightening. The microneedles cause a controlled injury that results in formation of new collagen and elastin (the fibers responsible for skin tightening). In addition, the radio frequency wave also stimulate collagen and elastin formation. SO, you have skin rejuvenation occurring from 2 different formats!! It is a great alternative to surgery if you are not ready to undergo the knife.
It takes 28 days to form new collagen. During those first 28 days, your skin will be reorganizing and remodeling deep into the subcutaneous layer of tissue. So, sit back and wait for the transformation! After just one Morpheus8 treatment, you can expect to continue to see changes in your skin for up to 3 months. Once the remodeling has occurred, you may opt for a 2nd treatment to further your improvement. Nothing will freeze you in place forever, however, it does give you a new starting point! Morpheus8 bridges the gap between surgery and topical lotions/treatments.
Where On The Body Do You Use Morpheus8?
Morpheus8 microneedling with radio frequency is most often used on the face and neck to help with deep wrinkles and lines, jowls, double chin, turkey neck, thick neck, undereye bags, smoker's wrinkles, crow's feet, large pores, crepey skin and forehead wrinkles. It is also used on other areas of the body such as the stomach, legs, and arms to decrease crepey skin, tighten skin and decrease fat. It is also used for hyperhidrosis (sweating under the arms).
Setiba Medspa works with you to help make you comfortable throughout the treatment. We use a very good topical numbing cream and offer Pro-Nox (laughing gas) to assist with any anxiety.
After your Morpheus8 treatment, you can expect swelling, redness and possibly some bruising as it is causing a controlled injury to get your collagen and elastin jump started again. This will last about 3-5 days. For the first 3 days, you will be instructed on what products to apply to the treated area. After 3 days, you can apply camouflage make-up. Day 4-5 you will have slightly flakey skin. After 5-7 days, your skin is looking back to normal. You can go back to work the day after the procedure, but frequently clients who work, come in on Thursday evening or Friday and recover without make-up over the weekend. By Monday, you are good to go! Those who don't work, often have Morpheus8 performed on Monday and recover during the week so they are ready to go on the weekend!
How quickly will I see results?
Visible results can be seen within a few days, but typically after three weeks the most noticeable results appear. Improvements continue up to three months after treatment.
Immediately after your treatment most patients will experience a clinical endpoint of erythema (redness) for 1-3 days, however for more aggressive treatments this may last longer. Slight to moderate edema (swelling) and mild to moderate sunburn sensation are also common post treatment and may last 1-3 days. Skin may crust and peel for 2-7 days depending on the treatment setting. 
Skin may feel warm and tighter than usual 
Skin may crust and peel for 3-7 days after treatment
Redness and swelling may last for 3-4 days Post-treatment 
Instructions 
Before discharge a topical ointment may be applied to the face, no bandages or wraps are necessary. You may be given samples of a topical balm to use for the 3 days after the procedure or you may apply aquaphor if you chose.
Makeup may not be worn for 24 hours after the procedure. If there are no areas with active oozing and warm redness, makeup may be applied after this time. 
You may resume the use of your usual skin care products (usually 2-3 days). Retinoids may be used 5-7 days after treatment. 
There are no restrictions on bathing except to treat the skin gently, avoid scrubbing or trauma to the treated areas, as if you had a sunburn.
Avoid sun exposure to reduce the chance of hyperpigmentation (darker pigmentation). 
The use of zinc oxide sunblock spf 30 at all times after 24-48 hours. 
Multiple treatments over a period of several months may be required to achieve the desired response. 
You will notice immediate as well as longer term improvements in your skin. The time for skin cell turnover is 28 days so most people will begin to see increased results after this time.
THE RESULTS SPEAK FOR THEMSELVES
Just check out these before and after images. By enhancing your already beautiful features, we empower you to be your best self and promise a side serving of complements.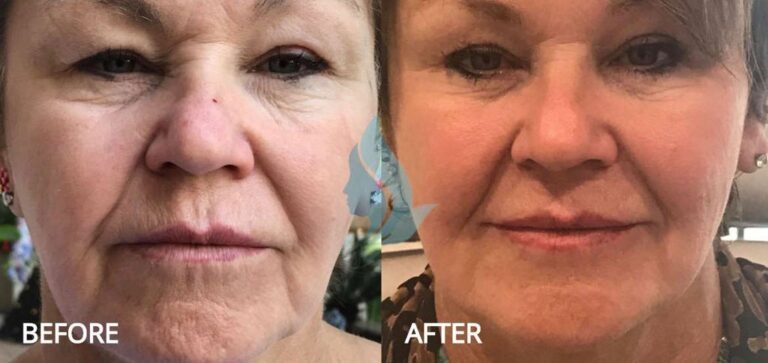 WHAT A FEW OF OUR CLIENTS SAY
Setiba Medical Spa is the new safe haven to help you in keeping your skin nourished and rejuvenated.
We are driven to deliver nothing but the best and safest treatments for our customer's satisfaction.
Setiba Medical Spa is the number one medical spa provider in Westlake Village, Thousand Oaks and Beverly Hills California. Free Consultation 805-703-0000. Follow us on Instagram and see for yourself some of the experiences and transformations.