FILLERS FOR FACE IN WESTLAKE VILLAGE, CA
Injectables in Westlake Village 
are used to relax facial wrinkles and folds (such as "smile lines"), contour the body (such as reducing the appearance of a "double chin") and improve the signs of facial fat loss by creating structure, framework, and volume to the face and lips. There are different types of injectable procedures that improve various areas of concern.
An FDA-approved aesthetic product that temporarily makes moderate to severe frown lines, crow's feet, and forehead lines look better in adults.
Want fuller, more symmetrical and shapelier lips? Dissatisfied with facial contour flaws? Is scarring where your skin is sunken or pitted affecting your confidence?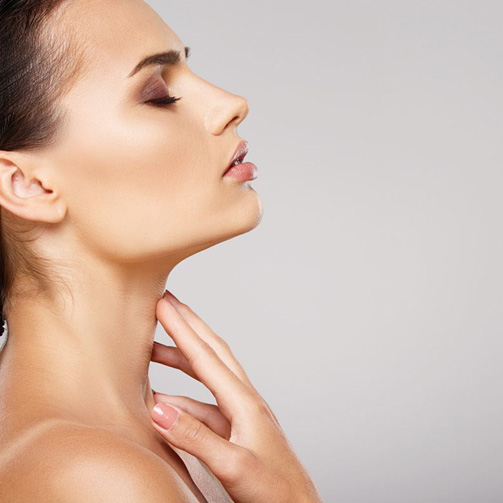 Kybella treatment is administered as a series of injections to the treatment area under the chin, destroying fat cells and producing gradual Results.
Radiesse is a dermal filler that is used for smoothing  facial wrinkles and folds, such as nasolabial folds and correcting volume loss in the back of the hands
The RHA® Collection of dermal fillers represent the latest advancement in hyaluronic acid filler science. This new line of injectable fillers is the first of its kind to treat dynamic facial lines while adapting to your facial movements, with more natural looking results that are guaranteed to last.
WHAT A FEW OF OUR CLIENTS SAY
Setiba Medical Spa is the new safe haven to help you in keeping your skin nourished and rejuvenated.
We are driven to deliver nothing but the best and safest treatments for our customer's satisfaction.
Setiba Medical Spa is the number one medical spa provider in Westlake Village, Thousand Oaks and Beverly Hills California. Free Consultation 805-703-0000. Follow us on Instagram and see for yourself some of the experiences and transformations.
Enjoy the VIP Member's Club benefits by signing up for one of our monthly members-only club packages! You deserve to take care of yourself. It's worth looking and feeling good every day!
Please contact us for current membership pricing
10 units of Botox or Xeomin
LHR 1 Small Area (chin, sideburns, naval line, areolas, lip or toes)
Microdermabrasion face & neck

Glycolic peel
Lipo-C Shot (helps cleanse the liver & speed up metabolism)

B12 Shot
LED Light Therapy
Choose up to 1 treatments per month (have to be diff. treatments, can't double on botox)
Please contact us for current membership pricing
15 Units of Botox or Xeomin
LHR 1 Medium Area (bikini, buttocks, lower arm, neck, upper arm, chest, upper back, lower back or underarms)
Customized GM Collin or Casmara Facial
Glutathione Drip
IPL (1 area)
Plasma Pen Small Area (upper lip, 11 line, laugh line, lower or upper eyes)
Choose up to 1 treatment a month (have to be diff. treatments, can't double on botox)
Please contact us for current membership pricing
24 units of Botox or Xeomin
PRP Injections (either lips, eyebrows, eyes, jawline or laugh line)
Exilis One Area (fat melting)
Plexr Shower Facial
Diamond Glow
Advatx Treatment
Hyaluronic Acid
Perfect Peel
Vaginal Rejuvenation
Classic Myers IV
Choose one treatment per month