BEST SKIN REJUVENATION TREATMENTS IN WESTLAKE VILLAGE, CA
Skin resurfacing in Westlake Village is a non-surgical procedure that takes less than two hours to complete. The objective of the skin resurfacing treatment is to resurface a more youthful and delicate skin. You can say goodbye to wrinkles, acne scars, and pigmentation issues with this special treatment.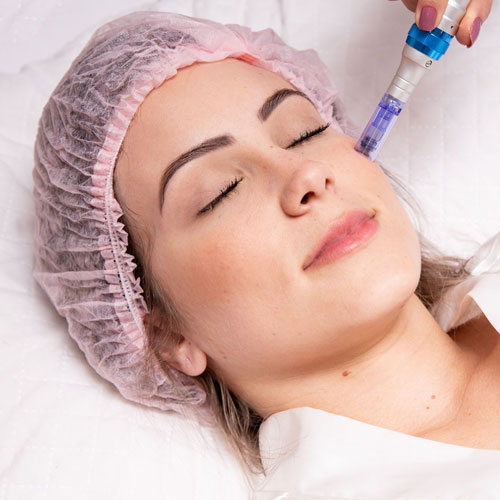 AGNES is a minimally-invasive radiofrequency (RF) micro needling device. What's unique about the treatment is that the handpiece features precise, micro-insulated needles which help beneficial RF energy penetrate the skin. Needles of different lengths and configurations allow our staff to customize the treatment based on your unique needs.
A Chemical Peel is a deep exfoliation that combines lactic acid, glycolic acid, and Arginine, to promote hydration of the skin while fighting the appearance of wrinkles, fine lines, and congested skin, it is needle-free and safe alternative to Botox or Dysport.
Glycolic acid is an alpha-hydroxy acid, derived from sugar cane, sugar beets, and other substances. It's used as a medium-strength chemical peel. Glycolic acid has anti-inflammatory and antioxidant properties. Perfect for treatment of oily, dull skin and blackheads. 
The Perfect Peel uses a revolutionary combination of five different active ingredients to create effective results in a comfortable treatment with around a week of recovery time. The vitamins and minerals including vitamin C to helps to create glowing, soft and healthy-looking results.
Plasma Pen is a soft-surgery plasma fibroblast that uses nitrogen plasma that significantly tightens, lifts, resurface, rejuvenate and regenerate any part of the skin with stunning and long-lasting effect.
WHAT A FEW OF OUR CLIENTS SAY
Setiba Medical Spa is the new safe haven to help you in keeping your skin nourished and rejuvenated.
We are driven to deliver nothing but the best and safest treatments for our customer's satisfaction.
Setiba Medical Spa is the number one medical spa provider in Westlake Village, Thousand Oaks and Beverly Hills California. Free Consultation 805-703-0000. Follow us on Instagram and see for yourself some of the experiences and transformations.
Enjoy the VIP Member's Club benefits by signing up for one of our monthly members-only club packages! You deserve to take care of yourself. It's worth looking and feeling good every day!
Please contact us for current membership pricing
10 units of Botox or Xeomin
LHR 1 Small Area (chin, sideburns, naval line, areolas, lip or toes)
Microdermabrasion face & neck

Glycolic peel
Lipo-C Shot (helps cleanse the liver & speed up metabolism)

B12 Shot
LED Light Therapy
Choose up to 1 treatments per month (have to be diff. treatments, can't double on botox)
Please contact us for current membership pricing
15 Units of Botox or Xeomin
LHR 1 Medium Area (bikini, buttocks, lower arm, neck, upper arm, chest, upper back, lower back or underarms)
Customized GM Collin or Casmara Facial
Glutathione Drip
IPL (1 area)
Plasma Pen Small Area (upper lip, 11 line, laugh line, lower or upper eyes)
Choose up to 1 treatment a month (have to be diff. treatments, can't double on botox)
Please contact us for current membership pricing
24 units of Botox or Xeomin
PRP Injections (either lips, eyebrows, eyes, jawline or laugh line)
Exilis One Area (fat melting)
Plexr Shower Facial
Diamond Glow
Advatx Treatment
Hyaluronic Acid
Perfect Peel
Vaginal Rejuvenation
Classic Myers IV
Choose one treatment per month